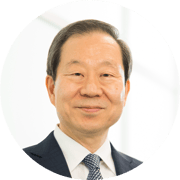 Akira Takata
Former CEO, MegaChips Corporation
Akira Takata currently serves on the Board of Directors of SiTime, the market leader in the MEMS based precision timing market. Previously, he was the President and CEO of MegaChips Corporation, from 2011 to 2019, the second largest fabless semiconductor company based in Japan. During his three decade tenure at MegaChips, Mr. Takata ascended the ranks of the company, from a member of the MegaChips founding team, through various senior positions, including director of Business Unit, director of production management, officer of alliance strategy office and officer of business strategy office, ultimately to the role of CEO. During his tenure, he facilitated the transformation of the company from a largely Japan focused business into a leading, global fabless semiconductor company. From 2014 to 2019, Mr. Takata also served on the Board of Directors of Global Semiconductor Alliance, a leading Semiconductor industry organization. He will serve as EdgeCortix Semiconductor Sector Advisor.
Daniel K. Fujii
President & Chief Executive Officer, Trust Capital Co. Ltd
Daniel Fujii is the President & CEO of Trust Capital Co., Ltd. Previously, Mr. Fujii was the Representative Director for Blackstone Group Japan. Before Blackstone, Mr. Fujii spent six years at Shinsei Bank as founder and head of its private equity practice. He has served on the investment committees for several private equity platforms dedicated to leveraged buyouts, retail, infrastructure, PIPES, corporate restructurings, and Greater China opportunities. He currently also serves as a Board Director of the Harvard Club of Japan, Asia Council Board of Phillips Andover, Board of Councilor for US Japan Council, Executive Committee of Silicon Valley Japan Platform, Founding Member of Asia Society Japan, Advisory Board of Asian Cultural Council Japan and Board of Trustees of American School in Japan.
Michael B. Oren
Former Ambassador to the United States (Israel)
Historian, statesman, and Israeli leader, Michael Oren served as Israel's ambassador to the United States, as a Member of Knesset, and as Deputy Minister of Diplomacy in thePrime Minister's Office. A graduate of Princeton and Columbia, he has taught at Harvard, Yale, and Georgetown. He holds four honorary doctorates and was awarded the Statesman of the Year Medal by the Washington Institute for NearEast Policy and the Dr. Martin Luther King Legacy Prize. Moving to Israel in1979, he served as a paratrooper in the IDF and participated in several wars, reaching the rank of major. Michael Oren was named by NPR as one of the best college commencement speakers ever, by Politico as one of the fifty most influential thinkers in America, by the Forward as one of the five most influential Jews in America, and by the Jerusalem Post as one of the ten most influential Jews worldwide.
Norishige Morimoto
Chief Technology Officer & VP R&D, IBM Japan, Ltd.
Norishige (Noly) Morimoto graduated with a BS of EE from Keio University and joined IBM in 1987 as a hardware engineer. After he earned a MS in Electronic Engineering and Computer Science from MIT, he joined IBM Research in 1995. In 2004 he led a company-wide collaborative project between IBM Research and IBM Business Consulting Services (IBCS) called On-Demand Innovation Services (ODIS) and worked as a managing consultant at IBCS to deliver new technology to clients and consulted innovation management processes to various companies. In 2005 he returned to research to lead the hardware research group and in 2009, he was appointed to Director of IBM Research-Tokyo. In 2015, Noly took a new position as VP & CTO in IBM Asia Pacific, and since 2017, he served as the VP of IBM Research & Development in Japan. In 2020, he was appointed as a CTO of IBM Japan in addition to his previous role. Noly has more than 20 patents and has over 6000 research citations.

AI Hardware Is All About Software
Sakya Dasgupta, Founder and CEO, EdgeCortix
Sept 13-15, 2022 at the Marriott, Santa Clara, CA