EdgeCortix Expands Leadership Team by Appointing Sudhakar Kale as the Vice President of Silicon Engineering and Head of the India Design Center
Semiconductor industry veteran joins EdgeCortix to drive delivery of advanced silicon solutions.
TOKYO, October 5th, 2023 – EdgeCortix® Inc. a Japan-based edge artificial intelligence (AI) fabless semiconductor development and design company today announced the appointment of Sudhakar Kale as the Vice President of Silicon Engineering and head of the new EdgeCortix India Design Center.
"I'm very pleased to be adding a leader of Sudhakar's caliber to the team, his unique combination of deep silicon design and edge computing experience makes him a natural fit to lead our Silicon Engineering team.," said Sakyasingha Dasgupta, CEO and Founder of EdgeCortix. "In addition to his wide technical experience, I'm delighted to add a talented business leader to direct our forthcoming India design center. I look forward to Sudhaker further strengthening our accomplished team of engineers to deliver advanced silicon solutions for EdgeCortix, now and in the future."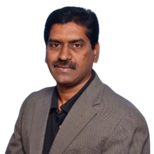 Sudhakar brings in more than three decades of expertise garnered from leading global semiconductor companies, including: Samsung, AMD, Intel, Texas Instruments, Synopsys and Blaize, where he held senior leadership positions with the charter of delivering state-of-the-art products by collaborating with international teams. Sudhakar has a track record of successfully delivering complex System-on-Chip (SOC) solutions for mobile, data center, and client markets, as well as advanced deep learning accelerators optimized for Edge computing. His technical proficiency spans a wide spectrum of SOC domains, covering SOC Integration, Design Verification, Physical Design, and Methodology.
"I'm very excited to join EdgeCortix at this important juncture in its business and technology development. I've been incredibly impressed with the work that the EdgeCortix team has accomplished to date, delivering the class leading SAKURA-I AI accelerator, on an aggressive timeline, was a monumental feat.," said Sudhakar Kale. "I'm thrilled now to be able to bring my years of technical and managerial experience to the table to further accelerate our design and performance capabilities as we deliver the next generation of industry leading edge AI computing solutions."
About EdgeCortix
Pioneering the future of the connected intelligent edge, EdgeCortix was founded in 2019 as a fabless semiconductor company focused on energy-efficient AI processing. In September of the same year, it established its R&D headquarters in Tokyo. Taking a software-first approach, EdgeCortix patented its "hardware and software co-exploration," system, using it to design an artificial intelligence specific runtime reconfigurable processor from the ground up. Shipping its software and hardware products to customers globally, the company is geared towards positively disrupting the rapidly growing edge AI hardware space across defense, aerospace, smart cities, industry 4.0, autonomous vehicles and robotics. www.edgecortix.com
Press Inquiries
Contact information for this press release:
Jeffrey Grosman
pr@edgecortix.com