Join EdgeCortix at the Linley Spring Processor Conference on April 23 2021
EdgeCortix is excited to announce the Dynamic Neural Accelerator ASIC IP series and benchmarks of our first AI accelerator chip.
April 14, 2021 -- Attend our presentation to learn about our runtime-reconfigurable Dynamic Neural Accelerator™ IP series and our first AI accelerator chip designed for breakthrough performance & energy efficiency at the edge. You can also join us in our virtual breakout room to see our compiler & software stack live in action and speak with some of our engineers.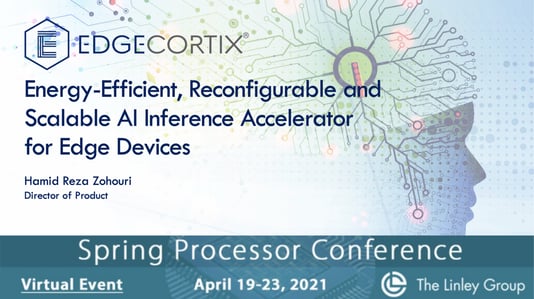 EdgeCortix Presentation: Friday, April 23 at 9:30–10 a.m. PT
Energy-Efficient, Reconfigurable and Scalable AI Inference Accelerator for Edge Devices
Achieving high performance and power efficiency for AI inference at the edge requires maintaining high chip utilization even with a batch size of 1. This presentation will cover how EdgeCortix's reconfigurable Dynamic Neural Accelerator (DNA) IP scales from a few TOPS to more than 50 TOPS, while maintaining high utilization, power efficiency and low latency regardless of workload. We will also outline how our MERA dataflow compiler complements the IP and enables seamless machine learning inference with DNA-enabled systems on chip.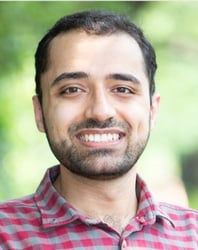 Hamid is one of the founding members of EdgeCortix's engineering team. He comes from an Electrical and Computer Engineering background with multiple years of focus on high performance stencil computation with FPGAs. He received his PhD from Tokyo Institute of Technology , Japan. Where he studied the potential of using reconfigurable hardware for accelerating high-performance computing applications. He is currently the Director of Product at Edgecortix.
Friday, April 23 at 11:40 a.m. — 12:40 p.m. PT
Join us in EdgeCortix's virtual breakout room where our CEO & engineers will be available to discuss your questions, along with live demonstrations for benchmarking machine learning models using our MERA compiler and software stack.